A root canal consists, in general terms, of cleaning the diseased pulp tissue of the tooth and re-filling it with biocompatible material to seal it.
This is one of the most used treatments in dentistry and aims to save a tooth that is considered dead, diseased or damaged. Although there are other factors that can lead to this situation, the truth is that most of the time this problem is caused by the existence of deep decay that can damage the tooth pulp located in the deepest part of each tooth.
Although in many occasions the decay can be treated with a dental filling -or obturation- there are others in which the damage suffered by the tooth is so big that it is necessary to do a root canal.
Once the root canal is done, the tooth is reconstructed so that it has a natural appearance, recovers its functionality and does not show any discomfort when carrying out daily activities, such as eating.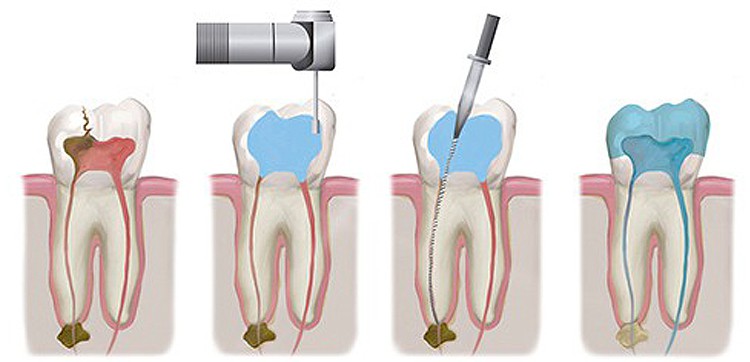 What are the symptoms of a person that needs a root canal?
Las lesiones mencionadas dan lugar a la infección, inflamación y necrosis de la pulpa, por lo que la persona experimenta un dolor que puede ser intermitente o constante y variar en intensidad.
Algunos de los síntomas que presenta un paciente que debe ser sometido a una endodoncia son los siguientes:
Sensibilidad al frío o al calor

Molestia al masticar

Cambio de color del diente a un tono más oscuro

Aparición de una fístula

Inflamación alrededor del diente afectado y/o inflamación facial
Root canals treatment at Dental Cibao Spa
Our endodontist, does an excellent job in to remove dental pain caused by acute infections, trauma or deep caries and thus preserve dental structures.
Currently, root canal treatment saves teeth that would otherwise have been lost.
The most common causes of pulp damage or death are:
Fractured teeth
Deep caries
Injuries, such as severe blows to the root (recent or past)
Photos of the successful results of our patients with Endodontic treatment
Below we present some cases with surprising results. You can also come and Smile with Us. Make your appointment Now!